Facing my crisis pregnancy at 17 was the scariest, hardest thing I've ever been through. I was in a state of constant crisis–I didn't know what to do. The problems I was facing seemed insurmountable. I faced legal battles, financial crises, and emotional turmoil. In order to keep my baby safe, I made an adoption plan. I grieve that loss every day. I had to grow up too fast, and it wasn't fair. But I'm so glad it happened.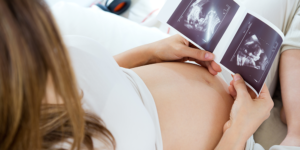 My crisis pregnancy made me who I am today, and I'm proud of that.
When I got pregnant, I was forced to change my lifestyle. I had to make healthier choices and surround myself with better people for her safety. It was far easier to make good choices for her sake than for my own. If not for her, I might never have turned my life around.
My pregnancy showed me what was truly important.
It didn't matter what people thought of me. I didn't care about the gossip, the drama, or what I looked like. I cared about making the best life possible for my little girl. She forced me to sort out my priorities. To this day, all I care about is reaching my goals and making her proud. Life is simpler because I don't care what people think.
Having my little girl made me tough.
If I can get through the judgment, the pain of delivery, and the grief of placing her for adoption, I can get through anything. Things that I used to think were hard–school, work, finances, relationships–are nothing compared to what I went through with my crisis pregnancy. It made me strong, and I know that I can handle whatever comes my way. I've done hard things before, and I'll do them again.
My journey gave me an increased capacity to love.
I thought I knew what love was before I met my baby–but I didn't. The first time I held her I felt a depth of emotion I hadn't thought possible. She unlocked a new level of love in my heart, and now I can love others so much more deeply and easily. This has led to fulfilling relationships not only with her but with friends and family who I now know how to love unconditionally.
My crisis pregnancy was hard, but it has made me a much better person. Thanks to my experience, I have become smarter, tougher, and more loving than I ever thought possible. I am proud of who I am today because of what I've been through. I wouldn't go back and change my experience for the world.